While traditional charging methods, such as plug-in charging stations, have played a crucial role in the initial adoption of electric vehicles (EV), EV charging technology is poised for a transformative shift by going wireless. With the advent of wireless EV charging technology, vehicle owners will no longer need to handle heavy cables or maneuver around charging stations.
The market for wireless EV charging is rapidly expanding as automakers, technology companies, and charging infrastructure providers recognize its immense potential. Major technology, automotive, and original equipment manufacturers (OEM) players are heavily investing in research and development, forging partnerships or making acquisitions to advance the wireless charging ecosystem. Hence, it becomes imperative to comprehend the strong foundation of different technology companies around the wireless EV charging domain, both in terms of Intellectual Property (IP) strategy and market dynamics.
Wireless EV charging – next big leap for eMobility
As shown in Figure 1, the key technology areas of focus in the wireless charging global patent landscape include power transmission methods and components, wireless chargers and charging infrastructure, vehicle positioning, charging control data and battery management.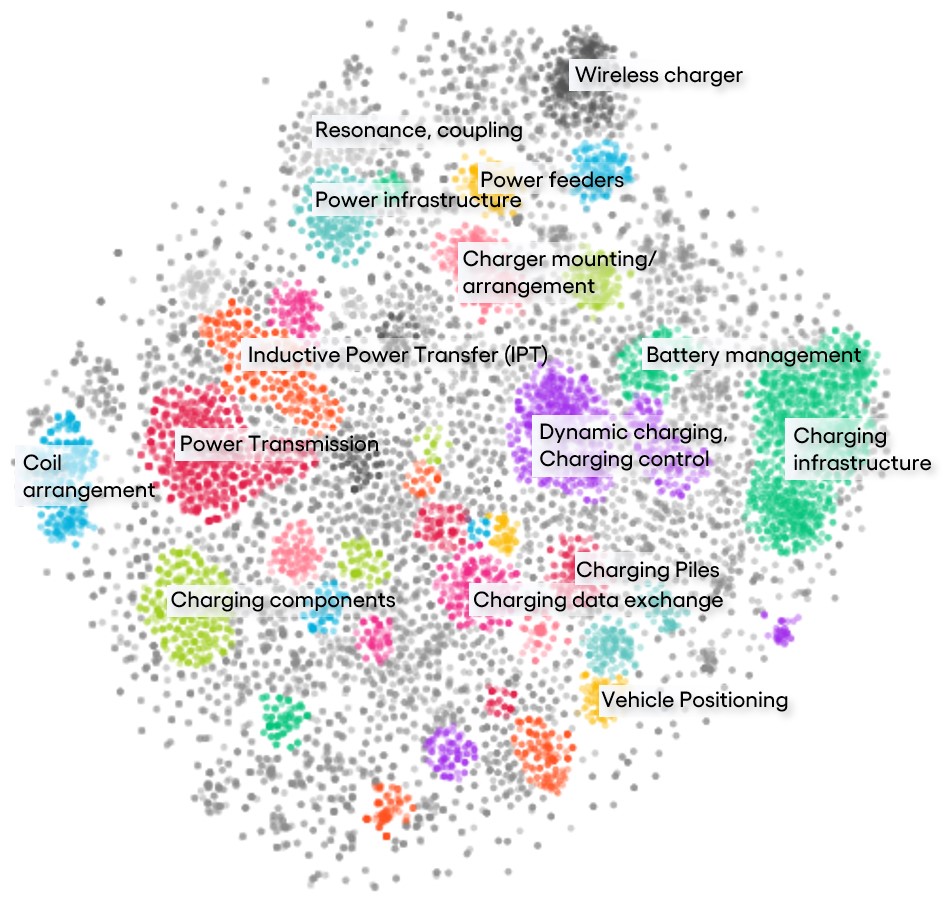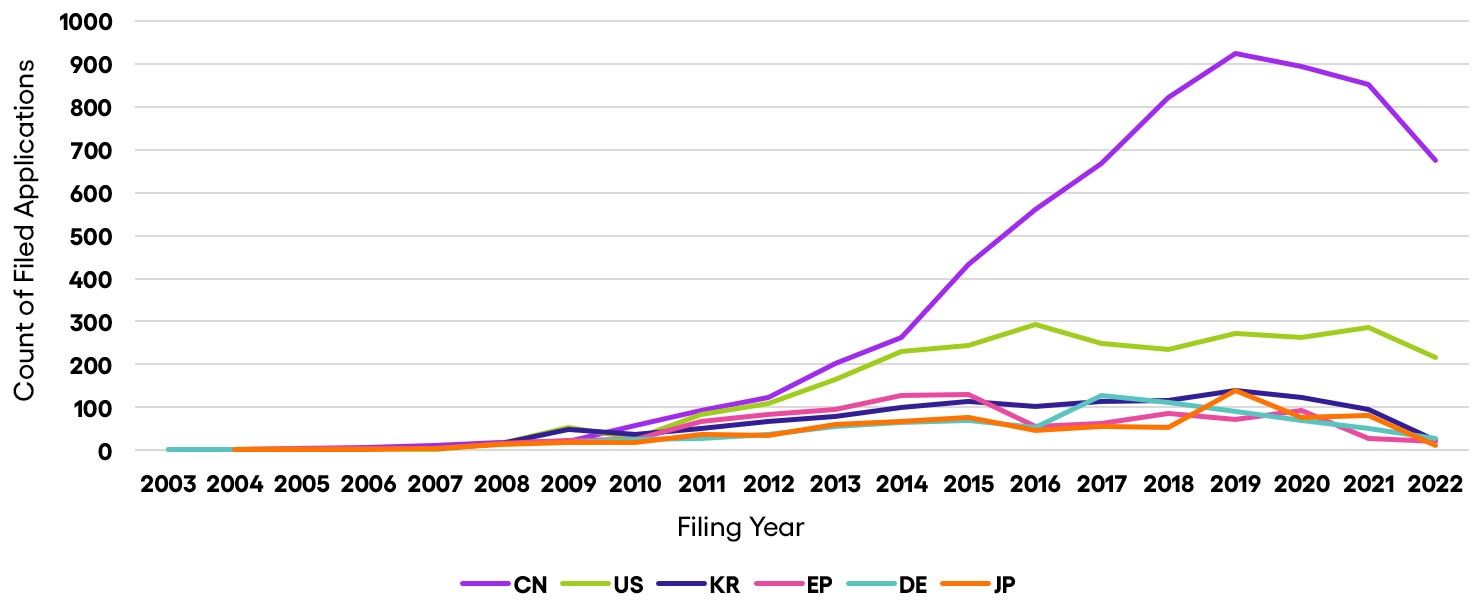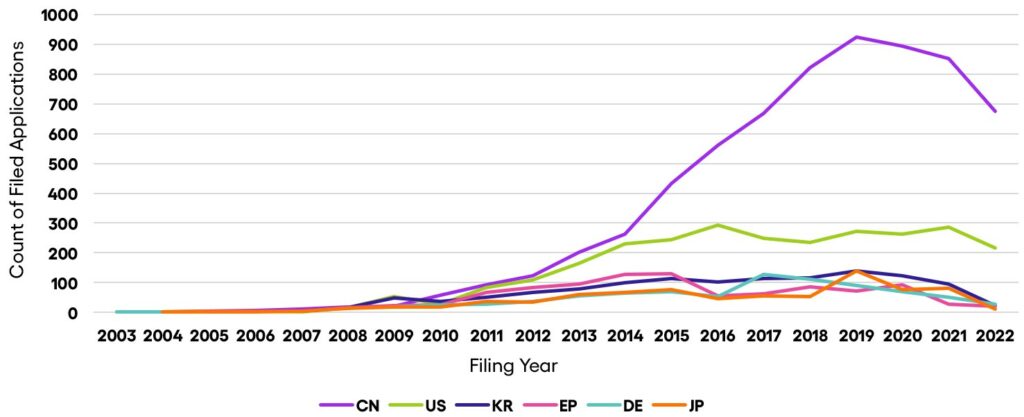 As shown in figure 2, the accelerated EV adoption in China (CN) in the past few years has led to a competitive market. Indigenous Chinese EV manufacturers like BYD are competing with Tesla for market share compelling Tesla to reduce the prices of EVs in the quarter one of 2023. Having established the leading EV market, China is now gearing up to take the lead in wireless EV charging.
A patent landscape analysis illustrates that China is leading in wireless charging patents. From 2015 onward, China's patent strategy in this domain has been to significantly expedite its patent endeavors in wireless EV charging technology. Interestingly, while the US and China have comparable numbers of granted patent portfolios, 32% of Chinese intellectual property assets are utility models and 37% are pending applications. Utility models provide limited ten-year protection for the structure of products with an average patent prosecution time of approximately six months.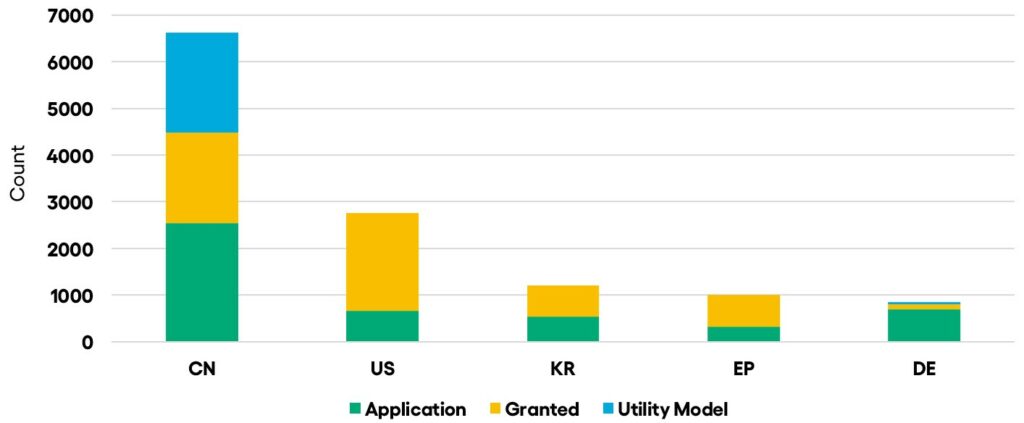 Divergent focus of China and the US
According to Alex Gruzen1, CEO of the US start-up WiTricity, "The Asian EV market is clearly ahead of anyone else. So, we are seeing the adoption of wireless charging happen first in China. I think Europe will follow because Europe is that much further along in the adoption of EVs, but the US and Japan are catching up".
Evolving technology focus of the US and China
China has emphasized on the interoperability of EV charging technologies to bolster innovation and adoption. WiTricity's patented technology forms the cornerstone of the Chinese national standard (GuoBiao or GB standard) for wireless electric vehicle charging, published by the China Electricity Council (CEC) on May 6, 2020. With the standardization of wireless charging techniques, China has opened doors for EV automakers and OEMs to focus on next-generation customer requirements rather than having to develop charging techniques independently and deploying them across the market.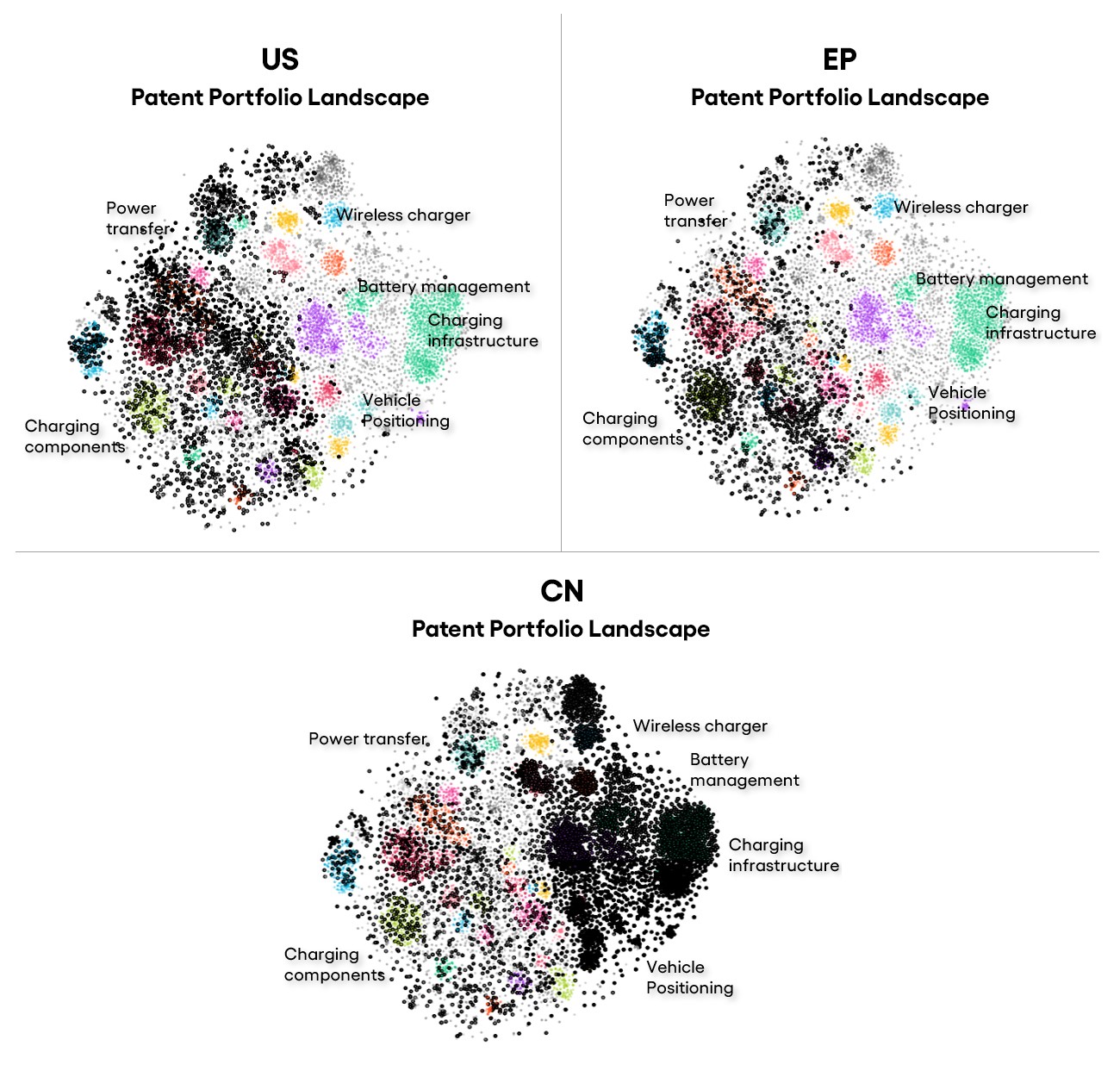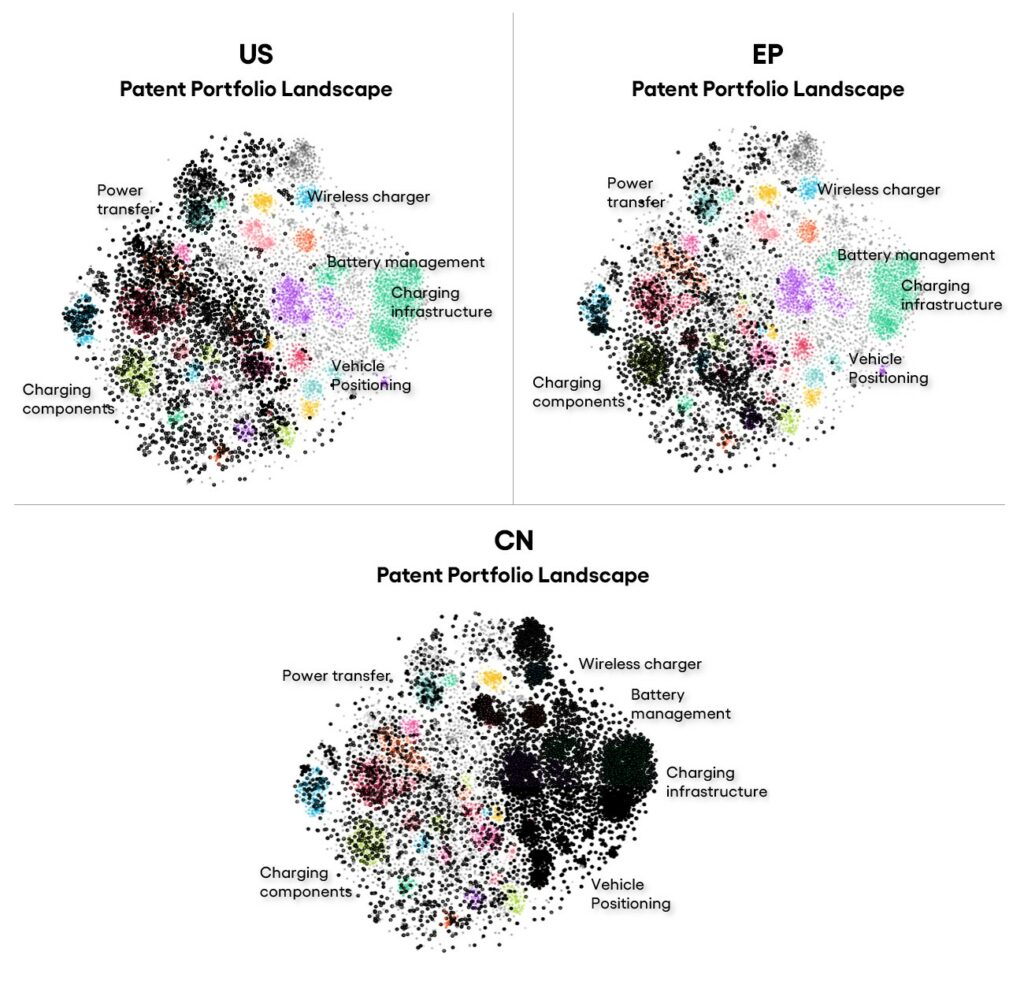 An analysis of the competitive patent landscape since 2014 indicates China's shifting focus on developing infrastructure that could lead to the commercial adoption of wireless charging technology. This shift includes focusing on wireless charging piles and road-side charging stations, wireless chargers, dynamic charging, and vehicle positioning. The intensification of the patent strategy across these technology areas over the past six years underscores China's strong intentions to become the early mover in revolutionizing electric mobility.
The US patents, on the other hand, had been focusing on wireless charging techniques through inductive charge transfer, coil arrangement, power transmission, and wireless charging data control. The areas of focus in the US primarily encompass technologies relevant to the SAE J2954 standard.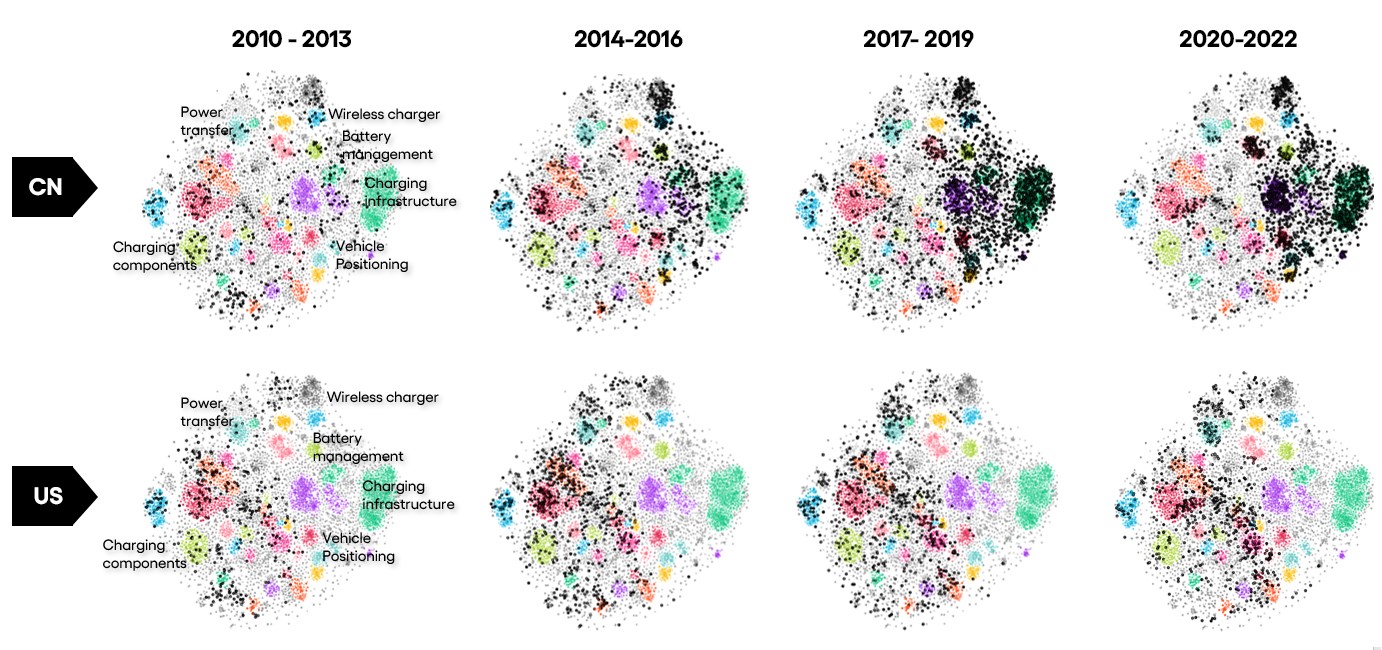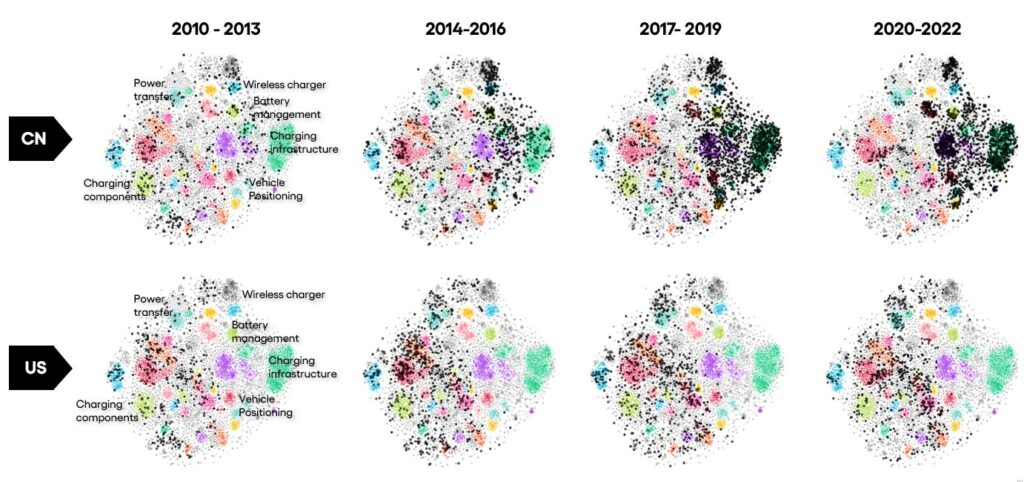 China lagging behind the US in protecting technologies globally
Compared to CN patents, the US patents have more family patents protecting multiple variations of the inventions and in more geographies. Indicating relatively stronger global protection, 86% of the US patents have family members filed globally with Europe, China, and Japan being the preferred geographies of IP-protection. CN patents on the contrary have been restrictive in protecting its inventions predominantly within its boundaries with 75% of their patents filed only in China.
| | | | | |
| --- | --- | --- | --- | --- |
| Countries | #Patent | % portfolio with global protection | Avg. family patents | Avg. countries of protection |
| CN | 6568 | 25% | 4 | 2 |
| US | 2740 | 86% | 10 | 4 |
Table 1
Patent protection the US and China inventions
(Source: UnitedLex analysis on patent data set)
Opportunity for the US as Chinese utility models expire
32% of Chinese intellectual property assets being utility models, will lose protection within the next ten years, by 2033. Subsequently, China and the US would have comparable numbers of patent protection on varied wireless EV charging technologies. However, unless the US intensifies its patenting activity aimed to address gaps in the charging infrastructure domain, China could have an edge in commercial wireless EV charging adoption. This advantage arises from China's balanced focus on indigenous wireless EV charging infrastructure and the leveraging of the US-based WiTricity's wireless charging technology.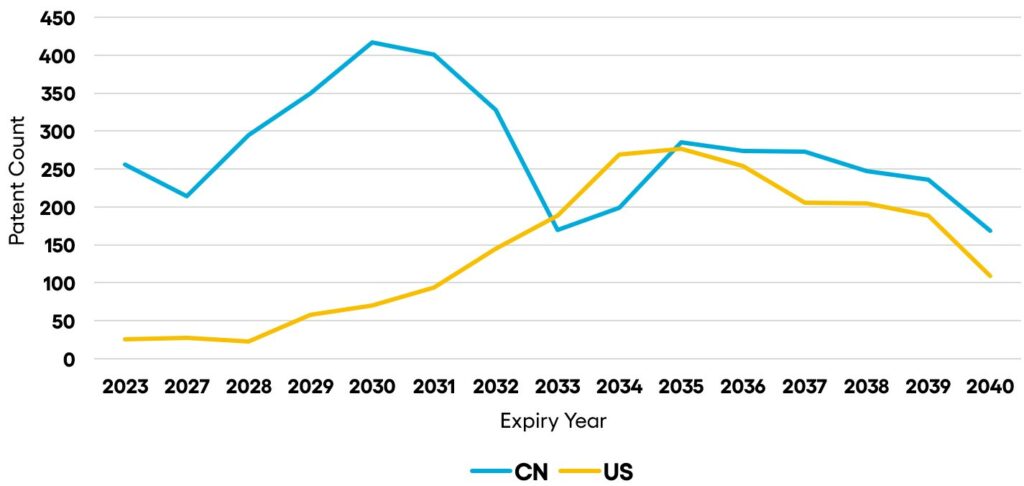 Major contributors deciding the future of wireless EV charging in China and the US
In 2019, the MIT spinoff WiTricity acquired approximately 1500 intellectual property assets associated with wireless charging technology from Qualcomm, along with its Halo product. WiTricity has identified 20 Chinese patents as 'standards-essential' for systems implementing the GB standard. WiTricity plays an active role in collaborating with leading Chinese entities to design and actualize systems to meet China's GB wireless EV charging standard. WiTricity has also been active in providing patent licenses and collaboration with OEMs and other emerging wireless charging players in the EV space in China.
The top ten assignees in China shaping the wireless EV charging patent landscape include government-owned entities, start-ups, universities, non-OEM companies (seven of the top ten) and automotive manufacturers. This indicates a collective effort in taking forward electric mobility into the next generation.
On the contrary, the top ten assignees filing wireless EV charging patents in the US are primarily automotive and OEM companies (eight of the top ten). Though automotive companies can contribute to research and development in this domain, to enable large-scale commercial adoption of wireless EV charging technology collective initiatives from the government, academia, and corporates would be required.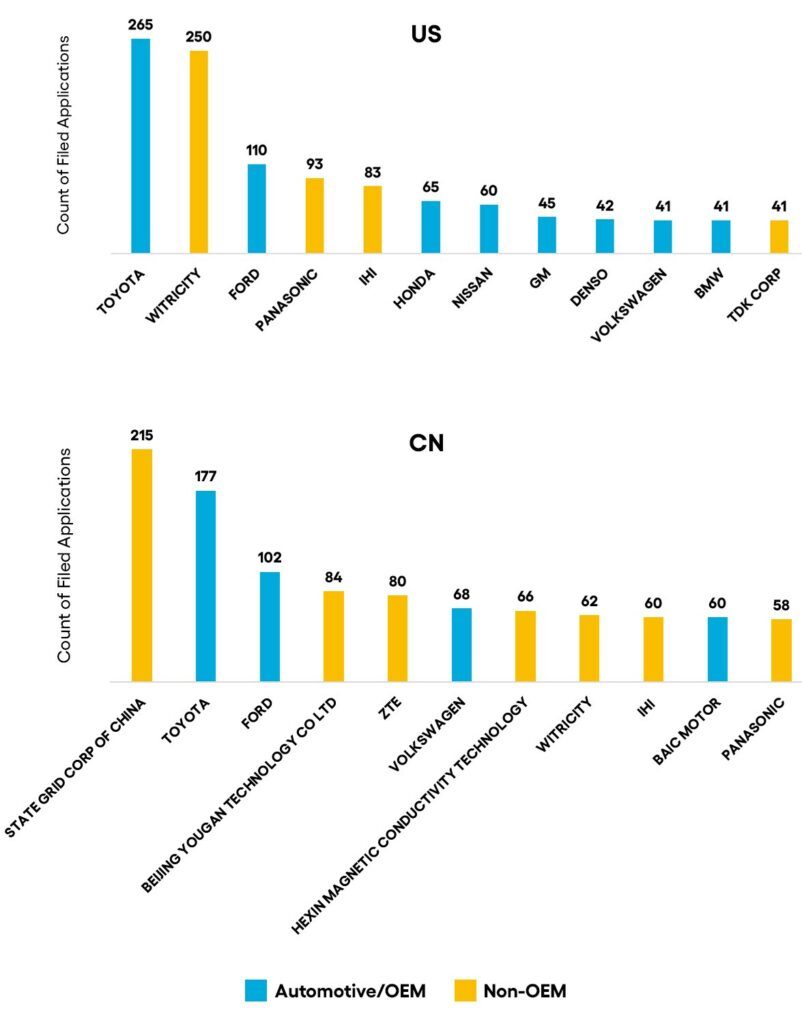 Monitoring and observing how various geographies engage and contribute to the wireless EV charging market from an IP strategy perspective would be quite interesting. Equally captivating will be the unfolding of the patent continuation strategies of the various players in this new market.
Accurate data and analysis improves decision making for IP teams and adds value to their teams and organizations. UnitedLex helps clients better understand their IP portfolios using data-driven insights to grow and build a competitive advantage. Using its proprietary AI technology, Vantage for IP, and extensive subject-matter expertise, UnitedLex helps convert these data-driven insights into increased revenue opportunities, reduced costs, and accelerated outcomes. For companies that must reduce costs, grow revenue, and navigate shrinking budgets, UnitedLex can help.